Each year, the 21st of June is celebrated as International Day of Yoga. This is a day when yoga enthusiasts come together to celebrate one of the most ancient forms of exercise and fitness. Ask any yoga practitioner today, and they will tell you that yoga changed their life, and for good reason.
We live in a day and age where everyone looks for instant results – whether that's in the form of online purchases, social media, lifestyle routines, or in the workplace. This is the reason why now, more than ever, we need to find a way to slow down, to meditate, and to appreciate the little joyous things around us, which is precisely what yoga helps us achieve.
There are a lot of benefits of yoga that go beyond simply 'stretching' and 'staying fit', as is often thought. While there may be people out there that will not stop praising yoga and the positive effect it has had on their lives, the truth is, for many people yoga seems daunting, or something that is 'just not for us'. There are also several people that enthusiastically start practising yoga by enrolling for beginner yoga sessions but soon drop out due to lack of time or interest.
So, to understand why people do yoga, and how it has benefitted them, we decided to ask top yoga influencers and yoga institutes the one question on everyone's mind – What is the one thing you wish you knew before you started yoga? The answers may surprise you, whether you're a seasoned yoga practitioner, or someone merely curious about all the fuss around yoga!
Vijeth Kumar – Yoga East West
Vijeth Kumar is a yoga teacher at the well-known Yoga East West institute. This institute boasts of three international locations, with over a dozen yogis, each specialized in a different aspect of yoga, right from asanas (yoga poses), to meditation, to pranayama (breathing techniques). Yoga East West has been successfully training aspiring yoga practitioners and teachers for over seven years.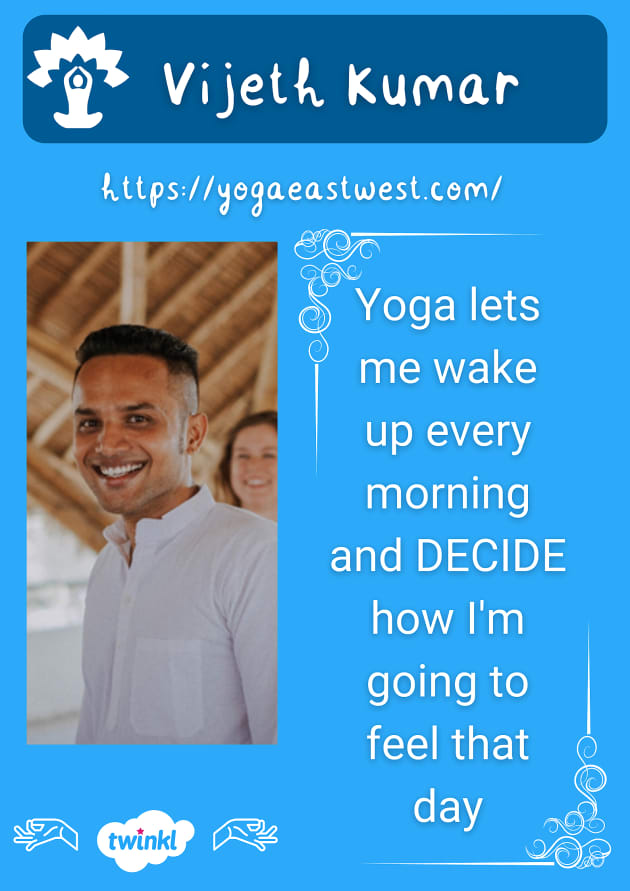 What is the one thing you wish you knew before you started yoga?
"I wish I knew that yoga had very helpful solutions to anxiety, depression, and a number of other conditions which stress the rest of the world today. I wish I knew I would be able to wake up every morning and DECIDE how I'm going to feel that day. It's truly been a miracle in my life".
Namita Kulkarni – Radically Ever After
True to her brand name, Namita has been a trailblazer right from the get-go. A self-confessed multitasker, she is a yoga teacher, traveller, writer and, artist. She is a certified yoga teacher, having completed a grueling 610 hours of Yoga Alliance training. Chronicling her journey on her website, Radically Ever After, she combines her love for yoga and travel, by visiting different countries (she's already visited over a dozen, and counting!) and training aspiring fitness enthusiasts in the art of yoga.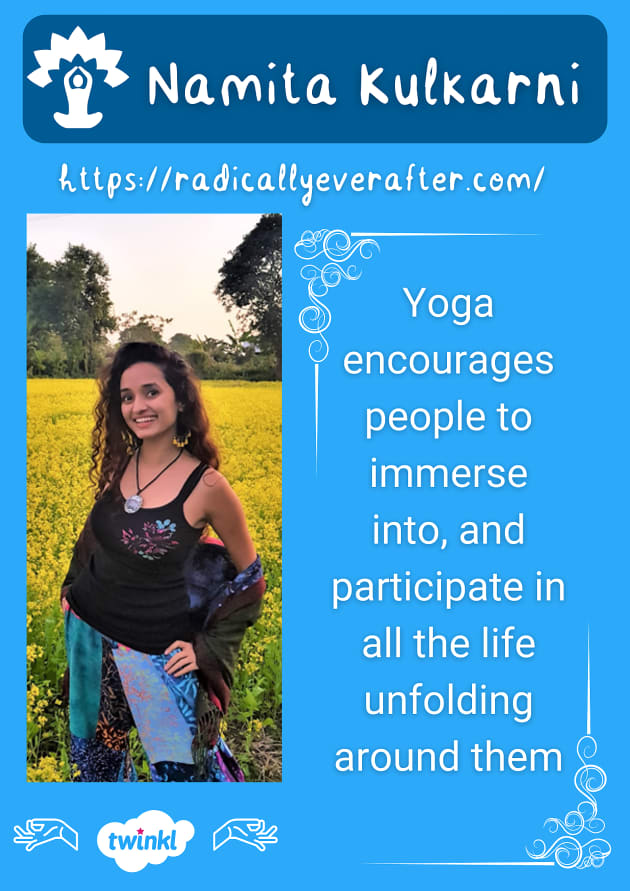 What is the one thing you wish you knew before you started yoga?
"One thing I wish I knew before I began Yoga is that the Yoga industry is rife with ungrounded spiritual teachings that are based in patriarchal ideas of spirituality. The self-appointed, self-declared 'enlightened gurus' of patriarchal spirituality lead people away from their humanness, instead of toward it. Being a detached witness who transcends reality is sold as the ultimate goal of enlightenment, instead of encouraging people to immerse into and participate in all the life unfolding around them. Patriarchal spirituality treats the earth as simply a 'waiting room' before we meditate ourselves into some 'higher' realm where we can 'escape' the mess on this planet which we all have roles and responsibilities in. The world needs more people willing to descend into the depths of their humanness, not more people dissociated from reality and the material conveniences around them! So that's something I wish I'd been alerted to before I began Yoga".
Shobhit Ghanshyala – Siddhi Yoga International
Shobhit, or Govinda as he's affectionately called, is a senior yoga teacher with Siddhi Yoga International. He discovered yoga in his early twenties, and after a few months he realised he not only wanted to practise, but also wanted to teach this ancient art form. Shobhit has studied with many inspiring teachers, and has imbibed different traditional schools and ashrams' teachings, like Shivananda ashram, the Divine Life Society, Ashtanga, and Iyengar. He experienced an ashram life where he was teaching yoga and serving the community. As a certified yoga teacher, he taught Hatha and Vinyasa yoga in various schools throughout India and in China, insisting that he learns just as much from his students as they learn from him. His goal is to spread health and true happiness through yoga.
What is the one thing you wish you knew before you started yoga?
"I wish I knew that yoga would help me achieve a clear vision of life; a vision on how to lead a life in such a way that it could be more goal-oriented but at the same time personally fulfilling. Before I was not aware that in life there could be so many beautiful possibilities to do something good. Yoga helped me find the missing courage and compassion to face my fears and failures. Today, yoga makes me calmer than ever before, and I am enjoying the journey within."
Tara Stiles
Tara Stiles is the founder of Strala, a new approach to yoga that combines yoga, tai chi, and traditional Chinese medicine. Strala is practised in more than a hundred countries today, along with 30,000 schools in the United States alone. Between giving a talk at Harvard, and training people in the art of Strala, this New Yorker has also penned several bestselling books and has been featured in multiple mainstream publications.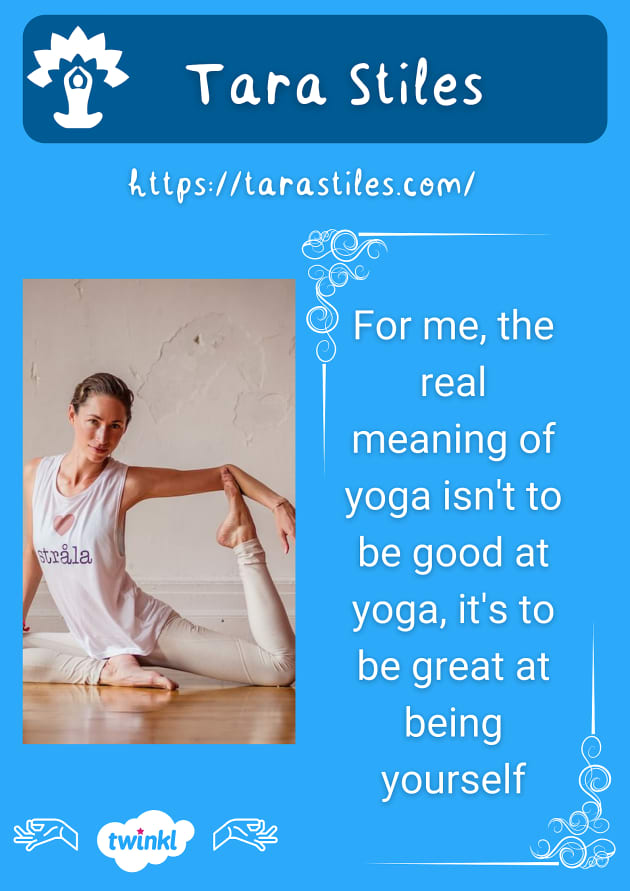 What is the one thing you wish you knew before you started yoga?
"What I wish I knew about yoga before I started was that it's a wonderful tool to help you feel better, and connect with yourself and the world more meaningfully. There is a big pressure, whether from the inside or outside, to lose track of that. The real meaning of yoga (for me) isn't to be good at yoga, it's to be great at being yourself! If you can't touch your toes, just bend your knees!". 
Yogrishi Vishvketu – Akhanda Yoga
Yogrishi Vishvketuji is an internationally renowned author, presenter, and yoga teacher trainer, practicing the art of yoga for over four decades. He wanted to reach the pinnacle of yoga studies and thus, he secured a PhD in Yoga Philosophy. His holistic approach brings forward ancient wisdom for a modern age incorporating asana, pranayama, mantra, meditation and yogic wisdom in every class conducted at the Akhanda Yoga Institute. His deepest aim is to inspire people to connect to their true nature, which is fearless, expansive, joyful, and playful.
What is the one thing you wish you knew before you started yoga?
"I started yoga at a very young age so this is a difficult question! But one thing I continue to experience with surprise every single day is how much the right guidance and teacher is important to benefiting fully from the practice – and there are so many benefits indeed!!"
Sarvottam Kumar – Rishikesh Vinyasa Yoga School
The city most widely associated with yoga, and which is often considered a must-visit destination for any yoga enthusiast, is the city of Rishikesh in India. It is no wonder then that our next Yogi is Sarvottam Kumar, a teacher of yoga Vedic philosophy and meditation at Rishikesh Vinyasa Yoga School. He has been practising yoga since 2006, but wanted to instigate an interest in other people for this ancient art form as well, and so, became a certified yoga teacher in 2014. He has since trained many people in the art of yoga and meditation.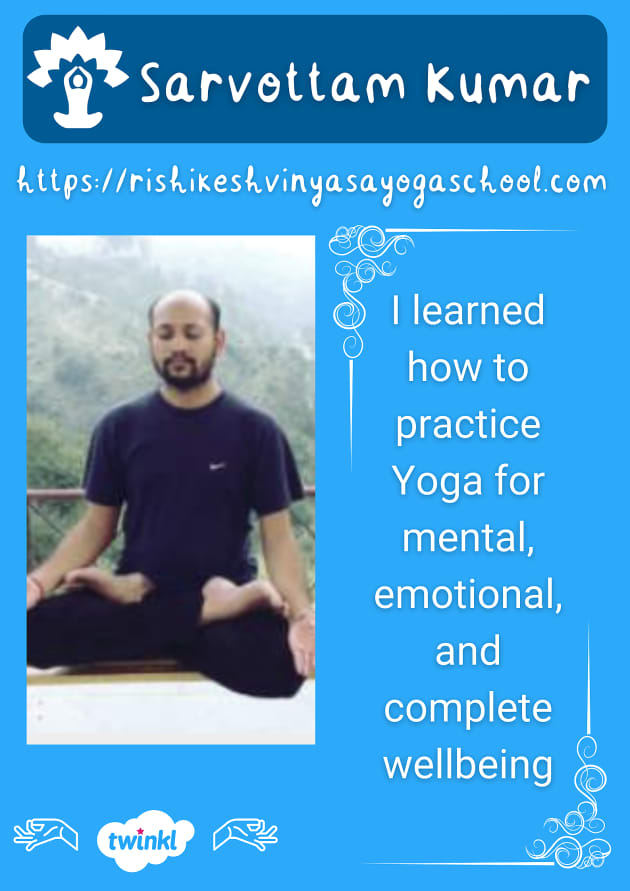 What is the one thing you wish you knew before you started yoga?
"Yoga is our ancient wisdom. Yoga is one of the self-imposed disciplines which you will grow to love more and more once you understand its value. Birth and death are permanent in the human cycle but how to balance and lead this bodily vessel is not known to everyone. I learned how to practice yoga for mental, emotional, and complete wellbeing – to enrich our life beyond the physical aspect only, and this happened when I met the right yoga guru. One thing I wish I knew before I started Yoga is that there are five limbs, six limbs, seven limbs and eight limbs of yoga, and all are equally valuable and a true Yoga Mala is incomplete without using everyone together".
Tiffany Cruikshank – Yoga Medicine
It almost seems obvious that yoga and medicine are connected but Tiffany Cruikshank wanted to make it official by combining her knowledge of sports medicine, acupuncture, Chinese medicine, and yoga. This is what led to the founding of Yoga Medicine in 2014, which runs on the principle of blending anatomy and western medicine, with traditional yoga practices, to help the medical community. Since then, Tiffany has trained thousands of yoga teachers, been on the cover of over a dozen magazines, and has also authored two books.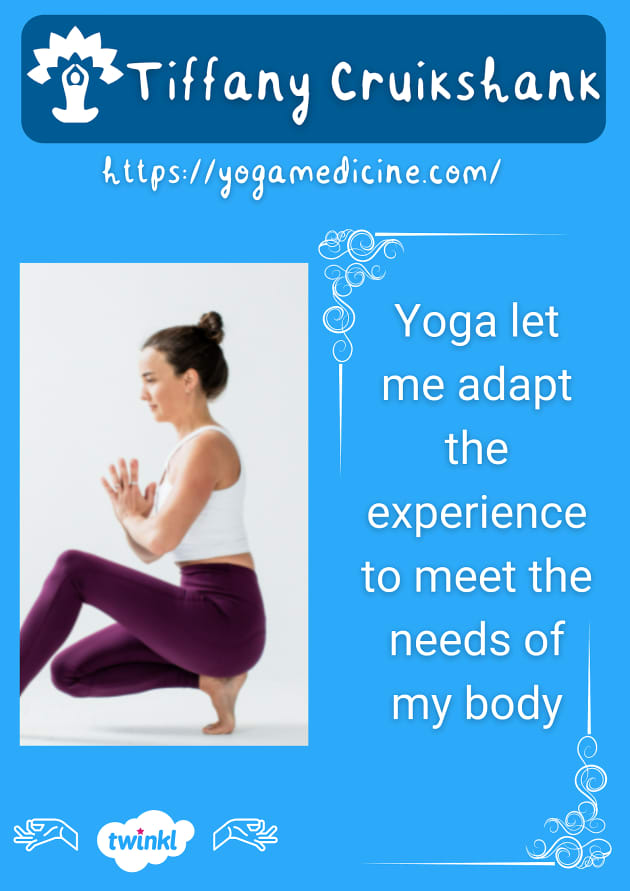 What is the one thing you wish you knew before you started yoga?
"One thing I wish I had known before I started yoga was that the shapes and pictures are just a guide, the most important part is the awareness and sensation within the poses. We each have such unique body structures; from the shape of our bones to the soft tissue adaptations of our sport and life. So, the poses will look and feel different for each person, but the experience in the pose is more important than visual shape. The lesson: Focus less on touching your toes and more on adapting the experience to meet the needs of your body! That's the secret to getting the most out of your practice."
Arun Pandala – Yoga Shows the Way
Coming with close to thirty years of yoga expertise, Arun Pandala is one of the most well-known Sivananda trained teachers in India. His love for yoga made him start the Sivananda Yoga Centre in 2004, which has since trained thousands of fitness enthusiasts in the art of yoga. In fact, when the coronavirus pandemic hit in early 2020, the Sivananda institute started conducting online yoga classes just four days after lockdown, to ensure that people could still access all their yoga resources. Arun is also a yoga consultant and advisor for the Government of India's AYUSH Ministry department.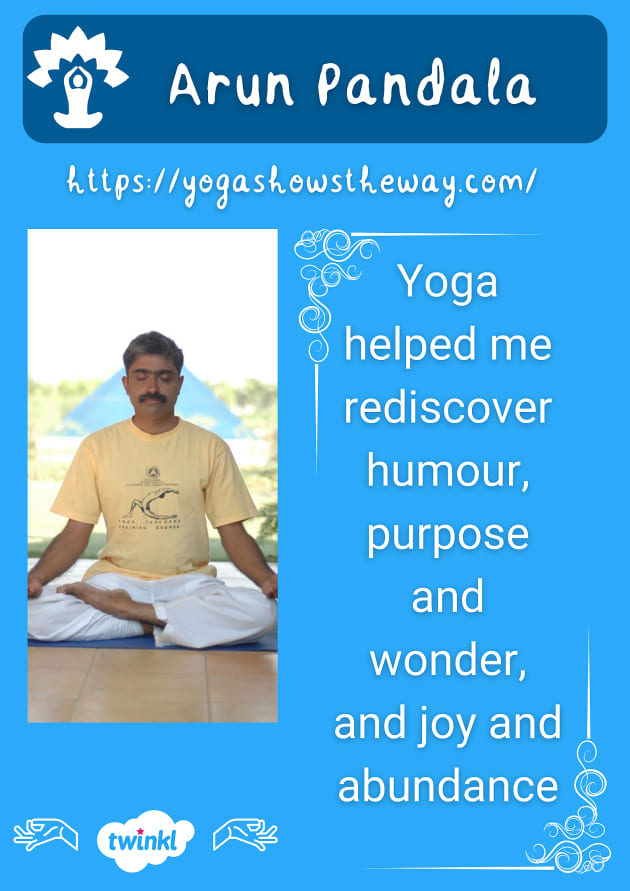 What is the one thing you wish you knew before you started yoga?
"Yoga helped me rediscover humor, purpose and wonder, spontaneity, joy and abundance. Serenity, equanimity, a sense of balance and unity. It also gave me strength, flexibility, stamina, endurance, immunity and resilience; it gave me good health and peace of mind. Most of all, I wish I knew this one thing before I started yoga – that I would come home to myself. Had I known this, I would not have waited so long to learn it!"
Jitendra Das – Patanjali Yoga Foundation
Jitendra Das has been teaching yoga since 2001, and he has travelled to dozens of countries the world over, teaching ancient Hatha yoga and Ashtanga Vinyasa Mysore yoga. He has a PhD in Yoga and Ayurveda, and founded the Patanjali International Yoga Foundation at Rishikesh, where he trains aspiring students and teachers in various forms of yoga.
What is the one thing you wish you knew before you started yoga?
"I wish, I could get the right yoga teacher since the day I started practicing yoga, because the teacher is the most important part of your yogic journey. If you have the right yoga teacher and mentor, you will get the right knowledge; the kind of knowledge which one gets from the first moment and the first breath, and which lasts you your whole life."
***
So that was what leading yoga influencers and training institutes have to say about yoga. We hope their response has piqued your curiosity, and inclined you toward learning this ancient and beneficial art form, which is sure to keep you mentally and physically in the best shape possible